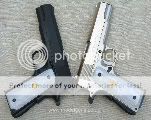 WARNING: X-rated language from the start...

Today's guest reviewer is fellow Brit, Ian, a talented yarn-spinner I admire, whose top notch stories seem to be popping up everywhere.
Ian Ayris's Crime Fiction Choice.
SAVANT
by
A.J. Hayes
,
A Twist of Noir
, October 2010.
'Fuckin' guns. It's always fuckin' guns. They think they pull a fuckin' gun and everybody just goes shit that's a fuckin' gun and falls down.'
With an opening like that, you just know you're reading something special.
And it's like that all the way through. The writing. Sharp and nonchalant all at the same time. Breaking so many rules of convention yet making you think, no, this is how writing should be. This is how writing can be.
Savant introduces us to Jimmy, a twelve year old autistic kid with a penchant for, well, violence. We see him standing amidst bodies, the 'skinny black kid in the red shrift-store hoodie'.
The narrator, Jimmy's friend, Holmes, lets us in early on there's something special about Jimmy, something to be wary of. So when local drug lord Sanchez turns up and starts waving his gun around, we're just waiting. Waiting for Jimmy.
And Jimmy... Jimmy doesn't disappoint.
A brilliantly written and conceived tale that knocked me flat when I first read it, and continues to do so.
Talk about a writer finding his voice.
Fantastic.
Bio:
Ian Ayris has had over thirty short stories published both online and in print. He lives in London, with his wife and three children, and his debut novel 'Abide With Me' will be published through Caffeine Nights Publishing late 2011. Ian blogs at ianayris.blogspot.com and can be found on Facebook at http://www.facebook.com/home.php#!/ian.ayris